Glitcheon

Hey everyone! We just launched a new update for Glitcheon, which features a new mode, lots of bug fixes and tons of new secrets!
New Game Mode: Fierce Foes!
We've added a new game mode that randomizes enemies with completely new variants such as:
- The Bouncer - Pretty self-explanatory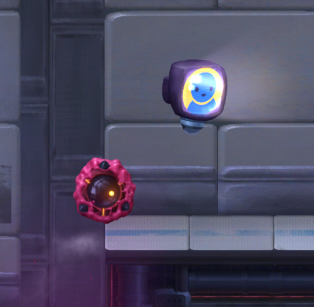 - The Enforcer - Slow but deadly


- The Sniper - Fast, and accurate too


- The Leaker - Extremely hazardous
You can unlock this mode by getting to a secret area somewhere in the game. Good luck, you'll need it.
NEW SECRETS
From secret paths to weird symbols, we've got it all! Can you find them?


CHANGELOG
That's about all the really big stuff, But there are also lots of bug fixes and improvements! Here's the full changelog With all the details:

New Content:
Added a new unlockable game mode: Fierce Foes. Explore and find the place where you can unlock it!
Added 4 entirely new enemy types that only appear in this mode
Added some randomized jokes to the error platform
Added a set of mysterious symbols appearing after a while throughout the game world. What could they mean?
Added a new area connected to a dark secret. Can you find it?
Added a hard to beat secret area in the Ads- and Analytics-Centre that holds a very special reward
Added one new health upgrade station hidden somewhere. Try to find it!
Added a new hint to better explain glitch pulse jumps
Added some hints to guide the player along the main path more effectively
Added a few new background ads, some of which made by our fans on discord!
Replaced visuals for one of the adblock ads with new original art
Bug Fixes and Improvements:
Made UI support all aspect ratios

Fixed bugs where the player could not die after falling into certain hazards
Improved the player physics so you can't clip through walls anymore
Improved the camera so the player is always in view
The skin selector now also works by entering the code while holding F2
Fixed issue preventing you from entering doors quickly after loading a scene
Removed some glitch variations that were confusing players
Fixed bug that was causing a grey screen in the main menu
Fixed bug where enemy triggers were deleting health packs
We've been working on this update for a while, so please give it a play if you can! Thanks for all your support!

Files
Glitcheon.DemoVersion.00.03.00.WebGL.zip
110 MB
Apr 18, 2021
Glitcheon.DemoVersion.00.03.00.Windows.zip
149 MB
Apr 18, 2021
Glitcheon.DemoVersion.00.03.00.Linux.zip
150 MB
Apr 18, 2021